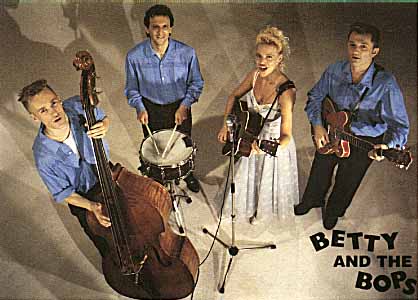 Le groupe Betty & the Bops est né en 1991 de la rencontre entre Tony Marlow (guitare) et Betty Olson (chant).
Leur passion commune pour Elvis et le Rock'n'roll des années 50 leur donne l'inspiration et la motivation nécessaires pour tenter l'aventure…
A cette époque, Tony a déjà un riche passé musical derrière lui. Ayant débuté à la batterie dès l'âge de treize ans, après avoir entendu le disque d'Elvis " live à Las Vegas " en 1969, il fonde les Rockin' Rebels en 1977.
Batteur puis chanteur de ce groupe pionnier du rockabilly en France, il a la chance d'effectuer la première partie de l'historique tournée Française des Stray Cats en 1981, en de décrocher un succès radiophonique en 1984 avec " Branche le poste " produit par Aldo Martinez l'ex bassiste des Chaussettes Noires.
Toujours précurseur il fonde " Tony Marlow et les Privés " en 1987, groupe de Swing avec section de cuivres, qui reprenait le " Jump, Jive and Wail " de Louis Prima plus de dix ans avant Brian Setzer !
Dès la naissance de Betty & the Bops, Tony s'investit complètement dans l'étude de la guitare qu'il pratiquait jusque là en dilettante.
Betty qui a contracté dès son plus jeune âge le virus du Rock'n'Roll par ses parents grands fans d'Elvis, travaille avec Tony un répertoire constitué de reprises du King, de Carl Perkins et des chanteuses des fifties telles que Wanda Jackson, Janis Martin et Brenda Lee.
Le 31 décembre 1991, ils donnent leur premier concert à Genève pour le " Dixie Fried Club ".
Dès lors le groupe est sur les rails et le train du Rock'n'Roll ne s'arrêtera plus…
Les concerts en France et à l'étranger se multiplient : la Suisse, l'Allemagne , les Pays-Bas, l'Espagne et l'Angleterre accueillent le groupe à plusieurs reprises. Ils se produisent notamment au fameux festival d'Hemsby en 1993.
Ils font les premières parties de Janis Martin, Billy Lee Riley, Sleepy Labeef, Big Al Downing, Don & Dewey, Big Sandy, des célèbres Comets de Bill Haley et avec " Elvis My Happiness " de J.D. Sumner & the Stamps Quartet, Terry Mike Jeffrey, des Imperials et des légendes du rock'n'roll Carl Perkins, Scotty Moore et D.J. Fontana.
Grâce à Marc Zermati de Skydog Records, ils sortent 2 CD en 1993 en 1996 distribués par Mélodie et constitués principalement de leurs propres compositions. En 1998, paraît un EP en " vrai vinyle " sur Sfax Records.Sur scène, Betty, féline, s'accompagne à la guitare acoustique et décline ses influences, des premiers enregistrements Sun d'Elvis à la sombre profondeur des Swamp Blues du Delta.
En 2000 sort l'album hommage à Elvis " Tant que je t'aimerai " produit par le club " Elvis My Happiness " et distribué par Magic / EMI. " Cette déclaration d'amour en digipack est la plus belle faite en Français à Elvis Presley depuis " To Elvis from Nashville " de Lucky Blondo à la fin des années 70 " Michel Chemin-Libération.
Enfin en 2002 la dernière livraison du groupe " Laisse les filles " s'avère une réussite totale, mélangeant reprises judicieuses et compositions en Français (PSD Music).
Outre Betty et Tony le groupe se compose du " Slappin' boy " Hugo Indiveri à la contrebasse et du roi du " Rimshot " Tony Sasia à la batterie.
Il ne vous reste plus qu'a les découvrir sur scène pour de chaudes soirées rock'n'roll en perspective !
Go Betty Go ! ! !
Source : http://www.psdmusic.com/artistes/betty_the_bops/index.php?name=2